Engagement Ring Trends of 2020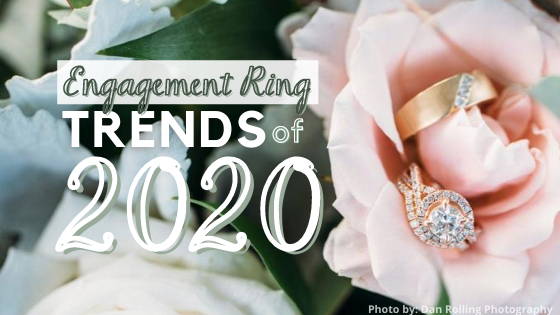 Ovals had an amazing year last year and what we've seen is that the elegant and classy shape is not going anywhere for awhile. Its elongated shape has is what makes this style so flattering and appealing. With that we are predicting a more popularity with the other elongated shapes as well. Shapes like Emerald and Marquise are very trendy right now.
Solitaire are THE most popular style of ring right now. As jewelry experts, we saw this coming, but it has been a bigger trend than we were expecting! The simple beauty of a solitaire lets the diamond's beauty be the center of attention as it should be. We are also seeing that men like to but the diamond and set it in a solitaire so later on she can choose her own setting one day if she would like. How amazing is that trend. Another part of the solitaire trend is straight diamond bands like the third ring in this photo. The simple diamonds leading up to one bigger diamond is simply perfect for years to come and that is why it is so trendy right now.
Simple vintage details have been very popular and it is obvious why. Trends these days are all about being classic and timeless, what better way to add that into a ring than with a little vintage detail. Wether it is a vintage halo, sapphire details or a milgrain edge you cannot go wrong with adding vintage details to make your ring stand out from others.
Solitaires might be taking the reins for the top trend of 2020 but don't sleep on three stone rings. Still classic and elegant but adding two side stones of your choosing adds an adorable detail that makes your ring unique to all others.
What will be the next trend to pop up? No matter the style or trend we have what you'll love at Spirit Lake Silver and Gold. We also love to do custom design engagement rings. Make am]n appointment today on Facebook to meet with one of our diamond experts!